The other trilogy
Another certain sci-fi trilogy has been occupying my mind recently ;) I've just watched Episode I (fast forwarding about 40% of the movie) and Episode II (skipping about 10%) and are primed for
Revenge of the Sith
. My excitement is tempered with my experience the last two times (less so AOTC) but it is still a day to be a day long remembered.
Midnight opening - here I come.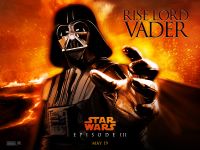 UPDATE : 3:46AM... I'm back. No spoilers here - but three words come to mind at the minute : intense, excitement, sadness. If you're a fan, you don't need me to tell you to go and see this movie.